Addressing Urban Flooding in Bengaluru : A Need for Permanent Solutions
Introduction:
In a positive development to tackle urban flooding, the Karnataka government has been taking appropriate measures. However, a long-lasting solution is required to effectively address this issue. Statistical data on Bengaluru's rainfall patterns over the past 100 years reveals significant variations, ranging from as low as 500mm to 1350mm, with an average rainfall of around 970mm. In the last five years alone, the annual rainfall in the city has been as follows:
2017: 1696mm
2018: 1050mm
2019: 950mm
2020: 1200mm
2021: 1500mm
2022: 1958.6mm (a record-breaking rainfall)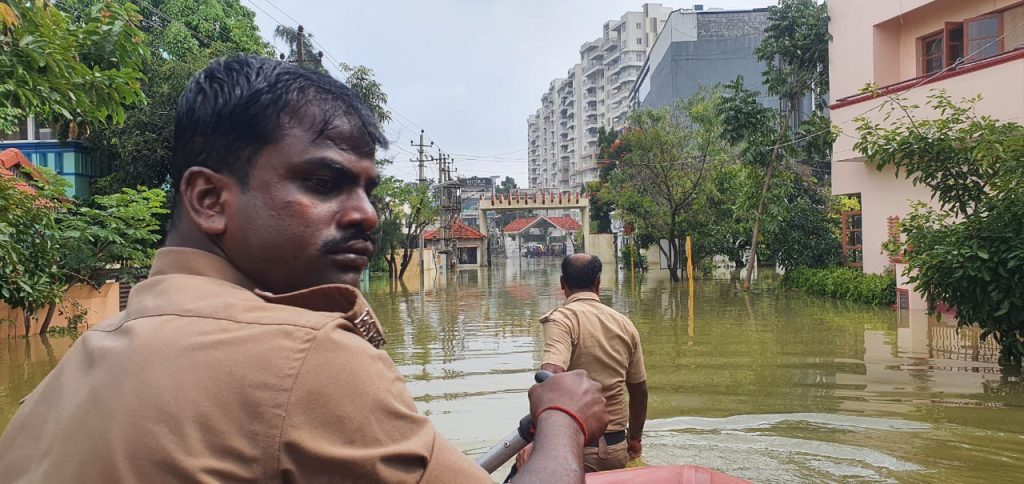 With the increasing urbanization and climate change in metropolitan cities like Bengaluru, it is anticipated that rainfall may continue to increase. In Bengaluru, rainfall peaks from September to October.
The Concern:
The crucial question arises: Can Bengaluru's Stormwater Drainage (SWD) system, including primary, secondary, and tertiary drains, effectively handle the rainfall? Due to expanding buildings, residences, and concrete roads, rainwater is unable to percolate into the ground, resulting in water runoff and increased flooding over the years. Furthermore, the depletion of lakes in the city raises doubts about their holding capacity. This calls into question whether the government has a robust policy regarding SWD for a city like Bengaluru and if it exercises sufficient control over the agencies working in silos.
CAG Report Findings:
According to a CAG report, "The city of Bengaluru is a victim of a paradoxical situation – urban flooding on one hand and depletion of groundwater table levels on the other. There is an urgent need for urban managers to address this issue from the water security/environment and urban planning perspectives." However, the report highlights that BBMP, BWSSB, and KSPCB have not worked towards a holistic and permanent solution.
Responsibilities:
Blame can be attributed to various entities for the current state:
BBMP: Delayed removal of encroachments, inadequate SWD maintenance and desilting, improper silt disposal, lack of comprehensive development records for SWD, incomplete and abandoned work, and poor performance of contractors in drain construction and management.
BWSSB: Delayed completion of sewer networks, rampant sewage mixing in SWD, inadequate Sewage Treatment Plants (STPs), lack of rainwater harvesting, allowing untreated sewage from large complexes and apartments to enter sewer networks, and inadequate attention to incomplete sewer networks in low-income areas and slums.
KSPCB: Insufficient regulations against polluting SWD, permitting factories, offices, and apartments without STPs.
Karnataka Tank Conservation (formerly LDA): Neglecting lake maintenance, untimely desilting, and non-operational or absent sluice gates.
Call for Action:
The Karnataka government must seize this opportunity to address the recurring issue of Bengaluru's urban flooding. It requires substantial investments in terms of resources and expertise. Engaging all relevant agencies, including BBMP, BWSSB, KSNDMC, KSPCB, and Karnataka Tank Conservation, in a comprehensive discussion to formulate long-term solutions is crucial. Only by doing so can Bengaluru sustain itself for the next 100 years and beyond.
In a positive development, Revenue Minister Krishna Byregowda recently met with World Bank officials to secure funding and expressed the government's commitment to addressing urban flooding seriously.
In conclusion, it is imperative for the Karnataka government and all relevant agencies to collaborate and find permanent solutions to address the persistent issue of urban flooding in Bengaluru.
The views expressed in this blog are solely the author's personal opinions and observations. They are not attributed to or intended as criticism towards any specific entity or organization. The aim is to encourage constructive dialogue and collective efforts towards a sustainable and flood-resilient future for Bengaluru.
Kiran Kumar N, Co-founder, Media Hanger – Bangalore based advocacy, research and communications company.
Source Reference :Thanks to IISC Bangalore (https://wgbis.ces.iisc.ac.in/energy/water/paper/ETR114/section6.html)
Thanks to CAG report 2021 ( Performance audit of management of storm water in Bengaluru area)